Applying Iontophoresis Drug Delivery to Treat Solid Tumors
Cancer is a devastating disease that can have a profound impact on individuals, families, and communities.  Solid tumor cancers, such as glioblastoma (brain cancer), pancreatic cancer, and melanoma are among the most aggressive and challenging to treat with few treatment options and poor treatment outcomes. While recent advances in immunotherapy and other technologies have shown a dramatic improvement over traditional chemotherapies, effective treatments for many solid tumors remain elusive.
Focal Medical uses its iontophoretic delivery systems to deliver powerful chemotherapeutic agents, precisely targeting the cancer cells and avoiding more general exposure to the often toxic properties of these drugs. Our goal is to apply Focal Medical's technology to improve health outcomes for patients with solid tumors.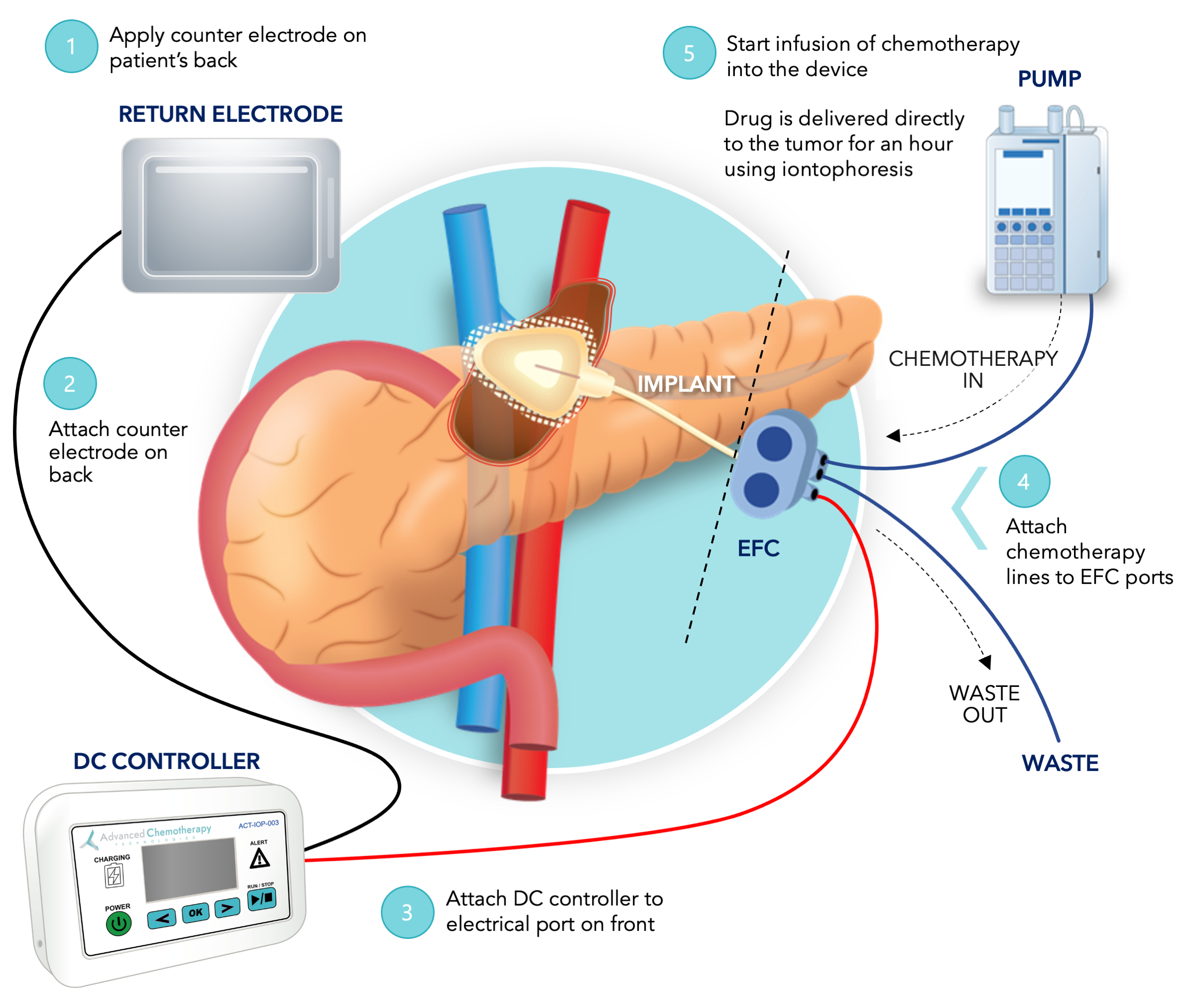 Local Delivery of Gemcitabine for Pancreatic Cancer
Among cancers, malignant pancreatic tumors are particularly insidious and lethal — symptoms are not typically evident until the disease reaches later stages. At diagnosis, the advanced stage of the cancer and the complex interface between the pancreas and adjacent organs may preclude surgical resection. Five-year survival rates are extremely low. Systemic chemotherapy is often the only treatment option and yields limited increase in life expectancy.
Pancreatic cancer cells are susceptible to anti-cancer agents; the consistent limitation is achieving therapeutic levels of drug in the target organ without causing a deterioration of the patient's overall health due to systemic toxicity. 
In our lead program, we are targeting locally advanced non-resectable pancreatic cancer and are shifting the paradigm in how therapy is delivered. We empower gemcitabine (an FDA approved chemotherapeutic) to deliver its anti-cancer effect directly to the tumor precisely and specifically with the goal to reduce tumor burden and restage non-resectable tumors to a resectable condition.
While this is our lead program, we expect to utilize our technology more broadly and open a new treatment approach for a range of challenging to treat solid tumors.
1
62,000 people a year are diagnosed with pancreatic cancer in the U.S. The five-year survival rate is 12%.
2
Surgery can help, but has limits: Surgical resection is the only potentially curative treatment. Surgical resection is only an option in local and regional cases which represent approximately 50% of diagnoses. However, only ~15% of patients are eligible for surgery, because the extent of tumor growth and its invasion of other important local organs often precludes effective resection.
3
Drug transport to the tumor faces barriers: Pancreatic tumors largely lack blood vessels, the typical method for delivering and transporting drugs. They are also heterogeneous in nature and encased in a fibrotic stromal shell. These obstructions often lead to poor response to drug therapy.
4
Side effects may be significant: Delivery of anti-cancer agents is typically by intravenous infusion following a prescribed course over several months. The systemic exposure to chemotherapy agents has significant side effects and may impact quality of life and the ability to tolerate therapy.
Focal Medical's approach may be a better way: If the targeted delivery of anti-cancer agents to locally advanced tumors could shrink otherwise non-resectable pancreatic tumors away from adjacent blood vessels and other organs, more patients could undergo resection, the only potentially curative treatment for pancreatic cancer.
Pre-clinical Studies Show Iontophoresis Can Shrink Pancreatic Tumors
Our plans to revolutionize pancreatic cancer treatment are built on groundbreaking work from cancer laboratories at UNC-Chapel Hill.
The labs developed an implantable iontophoretic device, then tested it on patient-derived xenograft models in mice — models that reflect the same heterogeneity and stromal resistance of pancreatic tumors in humans. Results showed:
100% of mice saw an average of 40% decrease in tumor volume following treatment with gemcitabine delivered with our local iontophoresis delivery platform.  In contrast, in the same study, tumors treated with intravenous gemcitabine grew an average of 140%.
5x higher concentration of gemcitabine in tumors as compared to intravenous infusion while eliminating virtually all systemic exposure.
Local Delivery of Carboplatin for Head and Neck Cancer
Head and neck cancers (cancers of the oral cavity, pharynx and surrounding tissue) represent another life-threatening disease with poor prognosis for patients. More than 54,000 new cases occur each year in the United States. with a five-year survival rate of 68%. Typically head and neck cancer is considered a local disease and treatments include radiation, chemo-radiation and surgery. Surgery is an effective alternative for treating this disease but comes at a high cost when the involved tissue includes the delicate structures in the oral cavity such as the tongue, mandible and pharynx. Surgical removal of these structures can leave the patient permanently disfigured or unable to speak or eat properly.
More effective treatments are needed that can shrink tumors prior to surgery or completely eradicate tumors without the need for surgery. Focal Medical has initiated a research program utilizing its energy-based drug delivery system in head and neck cancer. One approach is the delivery of the chemotherapeutic carboplatin directly to the tumor. Another approach is to use carboplatin as a radiosensitizer in conjunction with local radiation to target tumors. Both of these approaches hold early promise and are being explored in partnership with Virginia Tech.
Advancing Gene Therapy With Iontophoresis
With advances in safety and efficacy, gene therapy has finally started to fulfill its tremendous potential. But even with increasing success replacing, supplementing, or turning off genes, the field continues to evolve rapidly as it seeks to address such issues as off-target activity and unwanted side effects including unwanted immune mediated responses and the need for sustained delivery of therapy.
At Focal Medical, our innovative gene therapy program looks to surmount these challenges. We believe our platform for transferring genetic material via iontophoresis — electrical forces — may add a valuable tool for safely delivering certain genomic medications. Focal Medical's pipeline expansion plans include products utilizing its innovative technology to deliver gene therapy drugs.
Utilizing iontophoresis to achieve active and targeted, localized delivery, our technology potentially facilitates smaller doses and/or repeat doses, arriving more focused and concentrated.

Focal Medical, Inc.
111 James Jackson Ave. Suite 131
Cary, NC 27513